Employee Challenge:
If This Desk Could Talk: Copywriter Amber Bakeberg shares the stories behind the items on her desk.
As a copywriter at TMP, you will be part of an integrated creative department charged with leading our agency in innovation, creativity and execution. You will conceive, develop and manage an exceptional digital creative product. We're looking for someone who can thrive in a very fast paced, deadline driven environment, with an emphasis on creativity and accuracy. And we're looking for someone with lots of personality. Intrigued? Check out our open creative positions.
Look around any TMP office and you'll see the personalities of employees reflected not only in the work they produce, but in the desks they work at. Take a look at how copywriter Amber Bakeberg uses her desk to tell the story of her personal brand.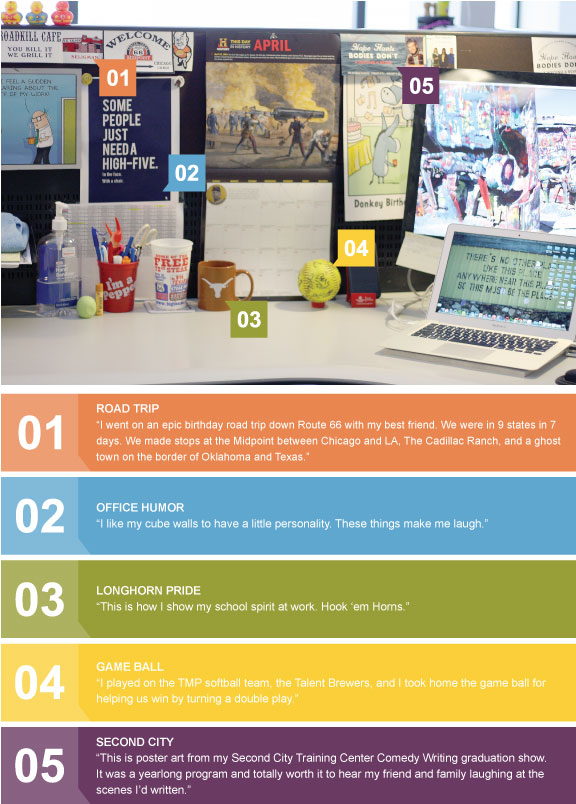 ROAD TRIP - "I went on an epic birthday road trip down Route 66 with my best friend. We were in 9 states in 7 days. We made stops at the Midpoint between Chicago and LA, The Cadillac Ranch, and a ghost town on the border of Oklahoma and Texas."
OFFICE HUMOR – "I like my cube walls to have a little personality. These things make me laugh."
LONGHORN PRIDE – "This is how I show my school spirit at work. Hook 'em horns."
GAME BALL – "I played on the TMP softball team, the Talent Brewers, and I took home the game ball for helping us win by turning a double play."
SECOND CITY – "This is poster art from my Second City Training Center Comedy Writing graduation show. It was a yearlong program and totally worth it to hear my friend and family laughing at the scenes I'd written."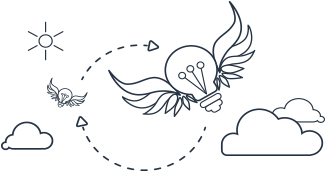 Creativity. Imagination. Vision.
Lassen Sie sich inspirieren.